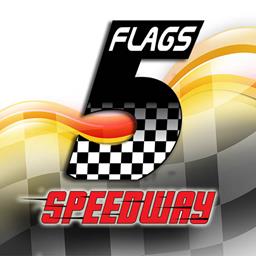 10/3/2021
Five Flags Speedway
---
Veteran Davidson Defends Allen Turner PLM Track Championship, Fourteen-Year-Old Sawalich Wins 100-Lap FinaleÂ
Veteran Davidson Defends Allen Turner PLM Track Championship, Fourteen-Year-Old Sawalich Wins 100-Lap Finale 
By Chuck Corder  
It's 50-50 whether Chris Davidson knew where he stood in the Allen Turner Pro Late Model Series points standings if you asked him before Saturday. 
The Pearland, Texas, Late Model driver would rather the chips fall where they may and accept his destiny than stress about things out of his control. 
The truth was Davidson trailed Connor Okrzesik by only five points coming into the Allen Turner PLM 100 finale on the Night of Champions at Five Flags Speedway. Davidson successfully defended his 2020 PLM track championship thanks to a terrific qualifying run and a third-place finish in the feature. He joined Casey Roderick (2017-2018), Garrett Jones (2013-2014) and D.J. VanderLey (2010-2011) in winning back-to-back PLM crowns at Pensacola's high banks. 
"This is not what we're here for, but we're definitely happy with the result,� said Davidson, who was determined to win the title by winning the race. "We just started off too free and stayed that way all night. 
"We love this place. (Five Flags) has a lotta character and it's hard to get around.� 
Young William Sawalich, 14, turned heads by winning the 100 lapper in a Donnie Wilson Motorsports car. It was just Sawalich's second career appearance at Pensacola's high banks, but he navigated the abrasive asphalt like a seasoned veteran. 
Sawalich took the lead from Jett Noland on Lap 88 and the Eden Prairie, Minn., kid earned the biggest win of his promising career. Noland finished runner-up, a week after scoring an impressive PLM win at Montgomery Motor Speedway. 
"I don't know what happened,� a gobsmacked Sawalich said in Victory Lane. "I was saving tires and next thing you know, I'm passing the leader. I can't thank everyone enough and Donnie Wilson for an amazing car.� 
Connor Okrzesik experienced a similar fate as the one Stephen Nasse endured in the Southern Super Series season finale earlier Saturday. Like Nasse, Okrzesik came into the night leading the points. And, like Nasse, Okrzesik's disappointing qualifying run was followed by a bitter ending before the race finished. Okrzesik was in the pits before Lap 80 and never returned as his No. 14 experienced mechanical troubles.
Back to News