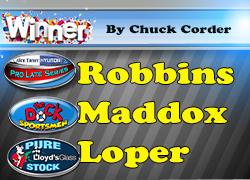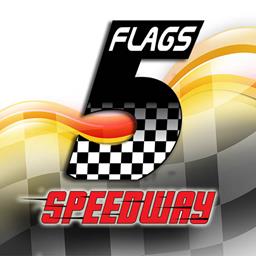 5/14/2022
Five Flags Speedway
---
Robbins Stays Hot, Pulls Away Late from Field to Capture Allen Turner PLM No. 1
Robbins Stays Hot, Pulls Away Late from Field to Capture Allen Turner PLM No. 1
By Chuck Corder
Hunter Robbins' Late Model rebirth tour made its latest stop Saturday at Five Flags Speedway.
Robbins—who calls Pensacola home with wife Johanna Long Robbins and their two young kids—has enjoyed a strong start to 2022, highlighted by a Pro Late Model win at the Alabama 200 at Montgomery Motor Speedway. It was his first Late Model win of any kind since 2015.
In his adopted hometown Saturday, Robbins dazzled the crowd by showing the strength of the Ronnie Sanders' red No. 18 PLM in clutch situations and won the Allen Turner PLM 100 season opener. He blew by young Gio Ruggiero on the high side to take the lead for good on Lap 18 and flew away from Jake Garcia, his closest competitor, 13 laps from the checkered to ensure his trip to Victory Lane.
Friday night's storms postponed the planned schedule to Saturday.
"It was pretty good weekend all around," Robbins said. "These races are always tough because you just don't know if you're going too hard or not. If you go too hard, you risk giving up track position. So, I'm thankful to be back here. You never know when you're going to have your last win."
Robbins seems in perfect position to get a few more this season. He battled the 15-year-old Ruggiero early on as the pair swapped the lead several times. Ruggiero's day ended much earlier than the teenager expected courtesy of a black flag. With 20 laps completed, Ruggiero jumped the restart following the race's fourth caution.
Garcia, the 2019 Allen Turner PLM track champion and defending Deep South Cranes Blizzard Series champ, finished second. The 17-year-old from Monroe, Ga., saw his best shot to get around Robbins and reach clean air come on Lap 87.
He closed in as the pair dove into Turn No. 4. But Garcia couldn't get the nose under Robbins, who fought back by pulling away in Turn No. 2 moments later.
"Hunter was a little bit better than us today," Garcia said. "I kept a good line the whole time and he didn't make the mistake I was waiting for."
Casey Roderick, who sat on the pole after Friday's fast time, finished third. Roderick struggled early but found something late in the race to hustle back for a podium finish.
"I couldn't roll the center as well as (the leaders) could," Roderick explained. "I was just trying to keep it together to get to the end of the race and let it rip for the last few laps. We want to get a win in Pensacola. We'll come back strong."
Robbins had the strength Saturday. Whenever he needed it, there was plenty of steam in the tank of the No. 18.
"There are a lotta good cars in this series right now," Robbins said. "If we keep making smart decisions, we'll stay up here. Ronnie's, obviously, the glue that holds it all together. It shows on race day."
The Dock on Pensacola Beach Sportsmen
The odds were certainly in the Langham Family's favor when they returned to Five Flags Speedway on Saturday afternoon. They had half the cars left in the field after Friday night's postponed program because of rain.
Turns out it was young Maddox Langham's day to shine on a blistering hot afternoon. The teenager took the lead from his old man, Howard Langham, on the opening lap and cruised to a comfortable victory in The Dock on Pensacola Beach Sportsmen 25-lap feature. It marked his first victory of 2022 and third in his career at Pensacola's high banks.
"I had to show up and show out against my dad and brother," Maddox said of dad Howard Langham in fifth and older brother Jonathan in sixth. "I make it my main goal to beat them, so all around it was a great weekend."
Darryl McDonald III, of Theodore, Ala., turned plenty of heads with some smooth maneuvering around the half-mile asphalt oval en route to finishing second. Molino's Brannon Fowler, the series leader after opening the season with two wins, came home third.
McDonald, nicknamed "D3," continues to show flashes of his form from his past Pure Stocks days when he won a track championship (2020). Those moves were on full display late in the race as he battled Fowler, who sat in second. After closing in, McDonald glided under Fowler and gained the track position he needed as they came out of Turn No. 4 on Lap 23.
"I had a hot rod today and a lot better than last race," McDonald said. "I think we have something for (the competition) this year."
Family and friends sprinted down pit row to congratulate and celebrate with Maddox as he pulled into Victory Lane. They hugged his neck, shook his hand and smooched his cheek.
"Just to be able to come out here and be competitive, it's amazing," Maddox said.
Lloyd's Glass Pure Stocks
Robert Loper welcomes all challengers in a talented and fairly balanced Lloyd's Glass Pure Stocks class.
The Theodore, Ala., driver is sure to get stiff competition May 27. That's when Loper will have a $200 bounty placed upon him. If a rival tops Loper—which no one has done in five consecutive races at Five Flags Speedway dating back to last year, including at the 54th annual Snowball Derby—that driver walks away with the bonus.
The bounty comes after Loper made it three Lloyd's Glass Pure Stocks 20-lap features in a row for 2022 on Saturday afternoon at Five Flags. Rain washed out Friday's night schedule.
"That's perfectly fine with me," Loper said, reacting to news of the bounty live in Victory Lane. "Come get you some."
He specifically called out past two-time Lloyd's Glass Pure Stocks track champion Robert Balkum, who hasn't raced in a couple seasons. Perhaps, the added cash and the Loper's trash talk will entice the former back-to-back champ (2018, 2019) to come out of retirement and score one for his hometown.
Mobile's Cameron Leytham had a fantastic performance to earn runner-up honors and Caleb Burkett represented Pensacola well in rounding out the podium.
Leytham was Loper's biggest threat all afternoon in the 20 lapper that saw just one caution. He was glued to Loper's bumper on the restart with five complete and Leytham nearly slid under Loper as the leaders dove into Turn No. 1 on Lap 8.
That was as close as Leytham got, however.
"We burnt the tires off too early," Leytham deduced. "I guess it was because I came through traffic too quick."
Burkett was thrilled for the third-place result after having to go to his backup car because of troubles during Friday's practice sessions before Mother Nature stepped in.
"For the weekend we've had, I can't complain," Burkett said. "My primary car lost its transmission, so we brought the old car out. I wasn't sure what it was gonna do. We'll take what we can get."
Back to News