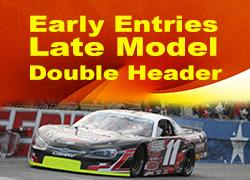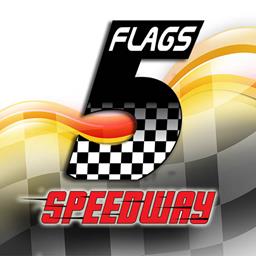 7/21/2022
Five Flags Speedway
---
LOOK WHO IS COMING SO FAR.
Five Flags Speedway is set to host a unique doubleheader weekend this Friday and Saturday Night. On Friday Night, the Allen Turner Pro Late Models will be featured in a 100 Lap, "Road to the Snowflake" main event, and will be joined by a 30 Lapper for the Faith Chapel Outlaws, and a 25 Lap Lloyd's Glass Pure Stock race.
Saturday Night will be the Super Late Models of the Deep South Cranes Blizzard Series. Their one-time a year format will feature 10 Lap Qualifying Heats, and a 75 Lap Feature.
Several drivers will be doing double duty by racing both nights, including Minnesota's William Sawalich, Tennessee driver Jackson Boone, defending Blizzard Series Champion Jake Garcia from Georgia, and Pensacola's own Hunter Robbins.
Also, on tap for Saturday Night will be a 50 Lap Open Wheel Modified event. Both race nights begin at 8pm.
Pro Late Models:
Car Driver Hometown Sponsors
2 John Bolen Jasper AL Bolen Construction
7 Jackson Boone Franklin TN Redstreet Records,
Roy Meat Service, D&D Events
11 Jolynn Wilkinson Hueytown AL Instacoat Premium Products
12 Justin Bonnett Bessemer AL Ingle Demolition and Salvage, Classic Printing and Signs, Alabama Vinyl
14 Chris Davidson Seabrook TX Davidson Electric, Pain Staking Art Studio, Turner Motorsports, MGR
18 Hunter Robbins Pensacola FL Pitboxes.com, Kittle Homes
18 Ryan Paul Mobile AL Earnest Performance, Johnny's RV, GBR Const, Revitalize Heating & Air
22 Dylan Courtney Citronelle AL
24 William Sawalich Eden Prairie MN Soundgear, Starkey Hearing
28 Timothy Watson Panama city FL Beach Nursery, MTS Surveying
28 Chase McLemore Saraland AL McLemore Appraisal Company
33 Dustin Smith Mobile AL SA Recycling, River Dan, Smith Scrap Metal
35 Jake Garcia Monroe GA Expo Homes, RPM Trailer Sales, Racechoice.com, Wilwood Brakes
51 Stephen Nasse Pinellas Park FL All American Concrete, Brembo Brakes, Deep South Cranes, SRI Perf 67 Colin Allman Plant City FL Racecar Engineering, #4LAW Lansky Law Group, Graham Custom Fab
69 Michael Hinde Hernando FL Mike Scott Plumbing, Brembro, Five Star
70 Gavin Graham Polk City FL L&R Structural, CF Graphics, Blair Corporation, Eibach, Serck
77 Greg Fore Greenville MS Precision Marine, New South Marine Construction
81 Gio Ruggiero Seekonk MA First Ford, Cook Electric, Jegs Performance, J and J Materials
89 Dylan Fetcho Lebanon TN Hunter industrial
89 Chase Spradlin Alabaster AL I Heart Mac & Cheese
21 Entries As Of 7/19
Blizzard super Late Models
Car Driver Hometown Sponsors
2 John Bolen Jasper AL Bolen Construction
7 Justin Crider Statesville NC Multi-Electrical Services, Prime Development Corp., JDS Glass
7 Jackson Boone Franklin TN Redstreet Records, D&D Events, Roys Meat Service
14 Chris Davidson Seabrook TX Davidson Electric, Turner Motorsports, Mike Garvey Racing
18 Hunter Robbins Pensacola FL Pitboxes.com, Kittle Homes
24 William Sawalich Eden Prairie MN Soundgear, Starkey Hearing
26 Bubba Pollard Senoia GA TM Ranch
28 Dusty Williams Acworth GA Movement Mortgage, Dustcom Limited
35 Jake Garcia Monroe GA Expo Homes, RPM Trailer Sales, Racechoice.com, Wilwood Brakes
43 Daniel Dye Deland FL Solar Fit, Jeep Beach, Race to Prevent Suicide
50 Jett Noland Groveland FL Nolands Roofing, Hype Motorsports Management, Cypress Ridge Hunt
51 Jake Finch Lynn Haven FL Phoenix Construction
51 Michael Atwell Naples FL Drake Ready Mix, Universal Transmission, Ras Concrete Construction.
51 Stephen Nasse Pinellas Park FL Deep South Cranes, Brembo Brakes, SRI Perf, All American Concrete 54 Matthew Craig Concord NC C&C Boiler Sales & Service, Inc.
69 Michael Hinde Hernando FL Mike Scott Plumbing, Brembro, Fivestar, Southern Race Fuels
79 Kyle Bryant Navarre FL Bryant Racing Equipment
88 Augie Grill Hayden AL I Heart Mac & Cheese
18 Entries As Of 7/18
---
Submitted By: Dave Pavlock
Back to News