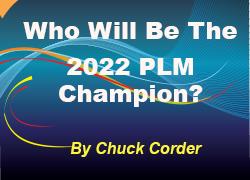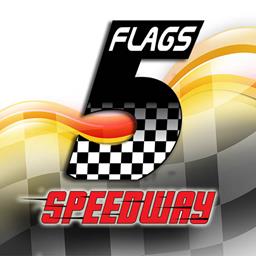 9/21/2022
Five Flags Speedway
---
30 PRO LATE MODELS READY FOR 2 NIGHTS OF RACE ACTION LEADING STO CHAMPIONSHIP
Allen Turner PLMs Running Twin 75s Friday and Saturday as 5 Flags Closes 2022 with Night of Champs
By Chuck Corder
5flagsspeedway.com reporter
It seems fitting that the Allen Turner Pro Late Models series comes down to its season finale.
With only two of this year's four scheduled races in the books, the Allen Turner Pro Late Models twin 75-lap features Friday and Saturday nights at Five Flags Speedway will crown a track champion and the title is squarely up for grabs. Pensacola's Hunter Robbins and Tennessee driver Dylan Fetcho are tied at the top with 94 points apiece, with Robbins holding a slight edge courtesy of his season-opening win in May.
There are five other rivals within 20 points of Robbins and Fetcho. Points will be at a premium at this weekend's Night of Champions, beginning Friday night at Five Flags with an expected field of more than 30 PLMs. Fastest in qualifying will earn five points with the amount awarded to the rest of the top five decreasing by one for each subsequent spot (5-4-3-2-1). Feature winners snag 50 points and the rest of the field earns two less than the previous finish (50-48-46 …).
"The goal, really, is to be consistent like we have been all year," said Fetcho, who owns runner-up and sixth-place finishes this season. "Hopefully, we can come away with a win before the year is over. We're gonna try our best and give it all we've got. Plus, we're bringing two cars just in case we need it."
The PLMs will be the only show Friday night before sharing the stage Saturday with the Super Late Models in their Deep South Cranes Blizzard Series season finale. Admission is $10 for all fans Friday, but still free for children ages 11-and-under; $20 gets you through the gates Saturday or $25 for both nights. Gates open at 5 p.m. both days. Qualifying for PLMs is at 6:30 p.m. Friday and racing is set for 8. The schedule is a little earlier Saturday with qualifying beginning at 5:30 p.m. and the green flag dropping at 7:30. There will also be a spectacular fireworks display Saturday between the PLM 75 and the Blizzard Series 125-lap finale.
Fetcho, 22, and his team of family and friends will make the seven-hour drive from their native Lebanon, Tenn., hoping to rekindle their strong performance from July. That summer night Fetcho finished second to William Sawalich, but left Pensacola's high banks confident his team hit on something.
"We're definitely getting the hang of (Five Flags)," Fetcho said. "We've raced there for a while now, but we've struggled. But, it's always a track I love to go to. This season has started to turn it around for us."
Waiting in the wings is 2019 PLM track champion Jake Garcia, who is also the reigning Blizzard Series champ. Garcia sits just eight points behind Fetcho and Robbins while back-to-back reigning PLM champ Chris Davidson is 18 points shy and tied in fourth with Justin Bonnett. Colin Allman is sixth, 19 points back, and Sawalich comes into Friday night with 74 overall points.
"It's gonna be a battle to the end," Fetcho said. "Especially it being two races. The top five or six have shot at it."
---
Article Credit: Chuck Corder
Article Media
Back to News