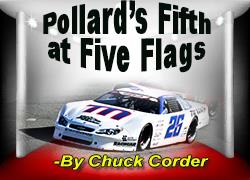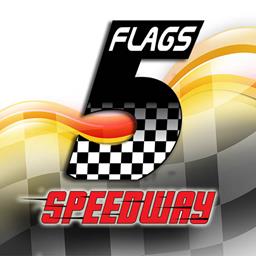 9/25/2022
Five Flags Speedway
---
Pollard Wins 5th; A Look at Championship Action Closing Out The Regular 2022 Season.
Pollard Captures 5th Blizzard Track Title as Late Model Night of Champs Crowns Winners
By Chuck Corder
5flagspeedway.com reporter
Stephen Nasse seems to have buried his Five Flags Speedway demons firmly under the famed half-mile oval's asphalt. Certain past nightmares might remain open wounds, but a trip to Victory Lane proves an uncanny salve.
Nasse captured the Deep South Cranes Blizzard Series 125 on Saturday at Five Flags, leading the final 18 laps after passing Bubba Pollard. The Pinellas Park driver bookended the Super Late Model season at Pensacola's high banks with wins, capturing the season opener in April and Saturday's season finale on the Late Model Night of Champions. Nasse was the only repeat Blizzard Series winner this year.
"I don't even know how to get out of the car, it has been so long since I've been in Victory Lane," he said. "This team puts in so much hard work. Never give up—that's our big thing. It's an emotional deal.
"It feels good to get back to Victory Lane. They made me work for it tonight."
William Sawalich, who had one of the other two Blizzard Series victories in 2022, finished runner-up and Matt Craig rounded out the podium.
While Nasse won the race, two other drivers claimed season SLM titles in two series. Pollard, who took the lead from NASCAR young star Chandler Smith on Lap 98, clinched his fifth career Blizzard title but his first crown without winning a race. Pollard finished fourth and ended a 14-year streak with a Late Model win at Five Flags.
"We had a good racecar," the Senoia, Ga., legend said. "With the way tires are, you don't really know what they've got. We had to run hard early to keep up with those guys. The guys behind us were in the catbird seat and could kind of ride while we burned our stuff up.
"It was a good weekend. I feel like we're in a lot better place than at the beginning of the year."
Pollard fell just short of winning two pieces of hardware in one night. Instead, Pensacola transplant Hunter Robbins celebrated his first career Southern Super Series title despite a rough night on the racetrack. Robbins watched the Allen Turner Pro Late Model track championship slip through his grasp earlier in the night and then battled handling on the Ronnie Sanders No. 18 SLM to barely edge Pollard for the SSS crown by four points.
"It was a pretty rough night," admitted Robbins, who finished 10th in the Blizzard Series 125. "We didn't run the way we wanted to. It was tough to hang on to be where we needed to be.
"We'll take the bad night and enjoy the good. It kind of puts a damper on the night, but it was a good year. I couldn't be more thankful for the people that helped me all year. It took every single (family and friend) to get us here. There are a lot of moving parts when you're a grassroots team. It took a lotta hard work and sacrifice and I think that's pretty cool."
Nasse was in the hunt for both titles but fell a single point short of Pollard and finished a distant third in the SSS. Still, the feature win Saturday was the best birthday present he could give his father.
"My dad these last few months has been going to work on the setups," Nasse said. "We're getting better and better baselines on this car. I can't say enough for this team.
"Winning the last one before the Derby means everything. It always gives you that extra bit of confidence going into December."
Allen Turner Pro Late Models
If you can't beat them, join them. Then, once you join them, beat them.
Giovanni Ruggiero showed he learns quick at Five Flags Speedway.
After being unhappy with aggressive drivers in the Allen Turner Pro Late Models 75-lap feature Friday, Gio went on the attack in the second 75 lapper Saturday night. The 15-year-old wasted little time in making his push for clean air from his starting position of third. Gio got around Ryan Paul in the first third of the race and pulled away from the 25-car field. After finishing third in two straight Allen Turner PLM features, the Seekonk, Mass., driver cruised to a victory by more than a full second against runner-up Dylan Fetcho. Cole Williams rounded out the podium in third.
"This feels great," said Gio, who drives for Anthony Campi Racing. "This team worked hard all weekend to get us here. If anybody deserves this win, they did more than I did.
"Just getting in clean air and out front was huge. It's kinda payback for what happened last night. I'm happy for all my guys."
His team showered him with water and huge hugs in Victory Lane, one of those coming from NASCAR rising hotshoe Chandler Smith—Gio's teammate for the night.
Equally as happy was Fetcho. The Tennessee driver locked up his first career Allen Turner PLM track championship, holding off Hunter Robbins, who crashed on Lap 56.
"I'm speechless," Fetcho said. "All the people behind me, supporting me back home, it's unbelievable to be a champion down here and a champion in Nashville."
---
Submitted By: Dave Pavlock
Article Media
Back to News