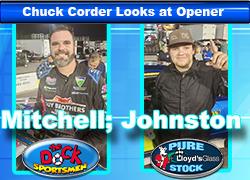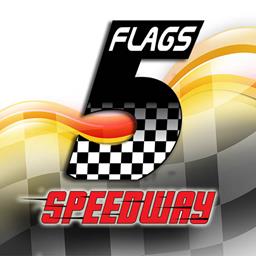 3/11/2023
Five Flags Speedway
---
A Pair of First-Time Winners Punctuate Opening Night; ASA STARS Battle Tonight at 5 Flags
A Pair of First-Time Winners Punctuate Opening Night; ASA STARS Battle Tonight at 5 Flags
By Chuck Corder
5flagsspeedway.com reporter
The emotions spilling out in Victory Lane told the story.
Kevin Mitchell had come ever-so close on multiple occasions last season to capturing his first victory at Five Flags Speedway. Three runner-up finishes are impressive for an asphalt rookie, but the dirt-track demon wasn't satisfied with simply turning heads last year.
Mitchell is accustomed to winning races and 2022 was the first year he didn't post a victory on any surface.
"I told myself I was not gonna let that happen again this season," the Pensacola native said.
He wasted no time in putting that mini drought in his rearview mirror Friday night at Five Flags as the 2023 season got underway. Mitchell survived a collision with the outside wall on the opening lap, led the final 15 laps and held off young Maddox Langham to capture his first career The Dock on Pensacola Beach Sportsmen 25-lap feature.
"Oh man, I'm gonna try and not to cry too bad," Mitchell said in Victory Lane. "The good Lord blessed me so much last year and this is just another blessing. I have a lotta respect for this class and I've worked really hard. I'm blessed to have people around me that believe in me."
Mitchell was fastest in qualifying but started outside of B.J. Leytham on Row 1 after the die-roll invert. As the first green flag of the season dropped, both Leytham and Mitchell barreled and slid into Turn No. 1. Leytham went all the way around, spinning between Turn Nos. 1 and 2 and had to come to the pits.
Mitchell did his best to save it before careening into the top of Turn No. 2. Mitchell easily was able to drive away and stay out on the track despite damage to his front right. He took the lead from defending Sportsmen champion Brannon Fowler on Lap 11 and had to withstand the hard-charging Langham for the entire second half of the race.
"I probably could've bobbled him a little bit coming off (Turn No.) 4, and I may have had him," Langham said. "Hopefully, we'll have more battles to come and I'll do my best to beat him as much as I can this season."
James Patrick finished third.
Lloyd's Glass Pure Stocks
Mason Johnston has been a sponge around his grandfather, absorbing every kernel of advice and information.
And who wouldn't listen when legendary short-track driver Okie Mason imparts some of his veteran knowledge? Johnson made Mason proud Friday night, winning his first career Lloyd's Glass Pure Stocks 25-lap feature at Five Flags Speedway.
"This win is dedicated to him," Johnston said of Mason. "I've learned a lot from him, but most importantly he has been my role model. He has taught me everything. We spend countless hours in the shop and worked on it all week and through the night."
Johnston was nearly perfect Friday, as the 2023 season kicked off at the famed half-mile asphalt oval. He was fastest in group qualifying, started on the pole after rolling a "1" on the die invert and nearly led flag-to-flag in the 25 lapper.
The only time he yielded P1 was when Colby McDonald shot through lapped traffic four laps to the finish. Johnson fought right back and reclaimed the lead a lap later when McDonald started sliding around on the back stretch.
"It was loose," McDonald said of his car. "We practiced on tires from the (Snowball) Derby and it was an animal.
"(Johnston) got around me at the end. That was a well-deserved win."
Robert Barber rounded out the podium.
---
Article Credit: Chuck Corder
Back to News