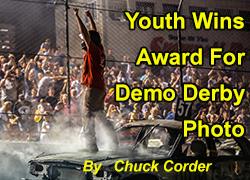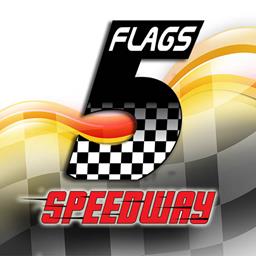 5/5/2023
Five Flags Speedway
---
Gulf Breeze High Junior Wins State Press Award for Demolition Derby Winning Image
Gulf Breeze High Junior Wins State Press Award for Demolition Derby Winning Image
By Chuck Corder
5flagsspeedway.com reporter
Young Jonathan Rose hadn't seen anything like this.
Sure, he had experienced Talladega up close and personal as a kid, but the now 17-year-old junior at Gulf Breeze High School had never witnessed a Demolition Derby when he and his father came to Five Flags Speedway last August.
Jon, a budding artist specializing in sports photography, made his first pilgrimage to the famed half-mile asphalt oval to capture the chaos of the unique annual event. Positioned in the pits and camped out on the inside wall, Jon wasn't disappointed.
"It was exciting being down there," he said. "When you see a car crash on the road, it stops you in your tracks. But to see more than a dozen cars piled up in front of you, it was crazy. Hearing the sound of cars crunching together and smelling the gas that fills up the air—the whole experience was wild. And the crowd getting excited just added to the atmosphere."
Jon's passion shows up in his work. The Florida Scholastic Press Association recognized it.
Jon—a photographer for Gulf Breeze High's student newspaper, "Blue and Gold"—received an All-Florida award for best Sports Reaction Photo for his lasting image of the Demo Derby. Winner Michael Fannin is celebrating on the hood of his mangled machine among a cloud of smoke and a packed house showering the Derby field with their approval on that steamy summer evening.
"I wanted to make sure a lot was going on in that scene," Jon said. "I want all my photos to be right in the middle of the action, which is why sometimes I shoot as low as I can. Sometimes even on the ground.
"Obviously there's a lot of carnage going on. But what I like about the photo is, in the corner of it, you can see another car wrecked in the foreground. And I think that adds a lotta depth to the photo."
The image was one of six total All-Florida awards Jon received this year, giving him 10 total in his young career after bringing home four during his sophomore year. His awards included categories such as "Spot News," "Florida Nature" and "Newspaper Front Page."
Jon will continue to pursue his labor of love in college once he graduates next spring. He is strongly considering staying home and attending the University of West Florida where he will already have a leg up on most incoming freshmen. Jon interned with the UWF photography department last summer and has shot a lot of UWF home football games.
He has already established an impressive amount of followers across several social media platforms, including Instagram (@jonrosestudios).
"It's exciting! It definitely feels good seeing my hard work pay off," Jon said. "When I started, I kinda felt people thought I was just some random kid running around taking pictures. But now, being recognized that I am accomplished at what I do, it's an amazing feeling."
A similar visceral sensation to when the goosebumps rose from Jon Rose's skin when he walked inside the hallowed confines of Pensacola's high banks nine months ago.
"I didn't know what to expect," he admitted. "We got there and there was this intense energy, and the fans were so passionate. You can see it in that photo where there are so many raw emotions."
Article Media
Back to News