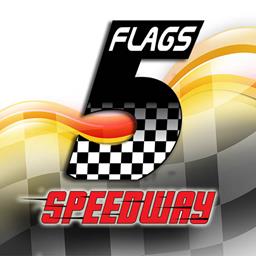 5/17/2023
Five Flags Speedway
---
Parity Reigns Supreme at Five Flags in 2023; $1K up for grabs in Sportsmen Spectacular
Parity Reigns Supreme at Five Flags in 2023; $1K up for grabs in Sportsmen Spectacular
By Chuck Corder
5flagsspeedway.com reporter
Drama is always bubbling to the surface at Five Flags Speedway.
But an extra layer of suspense has been added in 2023 thanks to a dose of parity among all divisions at the famed half-mile asphalt oval. In 19 overall races, including heat events, there have been 15 different winners. Despite Grant Thompson and Mason Johnston winning twice in their respective divisions, the playing field has been leveled and Friday nights at Five Flags have never been more edge-of-your-seat thrilling.
Five Flags' longtime announcing duo of Robbie Harvey and Bill Roth have taken notice. Roth sees it as a numbers game.
"Simple math: More cars will definitely yield more winners," Roth said. "We've seen that, not only with the new cars from the Crown Stocks series, but the Outlaws are so successful with their car counts and the Sportsmen are coming into their own. Their competition has been through the roof. All those factors and other things are contributing to more winners."
Another batch of checkered flags will be up for grabs Friday night with five divisions competing at Pensacola's high banks. The Dock on Pensacola Beach Sportsmen will compete in its annual 35-lap Sportsmen Spectacular with $1,000 going to the winner. A bonus $150 will go to the fast qualifier thanks to Billy Clark Bail Bonds.
The Faith Chapel Outlaws (40 laps), Zoom Equipment Pro Trucks (25), Lloyds Glass Pure Stocks (25) and Storey & Bleich Crown Stocks (15) will share the marquee with the Sportsmen. The opening green flag drops at approximately 8. Admission is $15 for adults; $12 for seniors, military and students; $5 for children ages 11-and-under.
"This has been one of the more competitive starts to the season we've ever seen, especially in the Sportsman division," Harvey said. "It's a toss-up when the green flag drops. We really don't know who's gonna win until we get to the finish. It's exciting to see them be so competitive."
The quality of racing this season at Five Flags has been nothing short of spectacular. The Sportsmen, with their Spectacular on Friday, have raced twice with Kevin Mitchell snagging his first career win on asphalt and Maddox Langham winning last month. The top five are separated by just 14 points.
The other four local divisions also have hotly contested battles. While Late Models are historically the most beloved classes at Five Flags, it's the older Late Models getting rebirthed into Outlaws that continue to gain in popularity. And it's easy to see why. Cameron Henderson and Bubba Winslow have won the first two Outlaws features of the season, but it's defending track champion Timothy Watson who's on top of the standings because of his consistency.
"Timothy Watson is one of the nicest kids at the racetrack," said Harvey, now in his 18th season announcing races at Five Flags. "I don't know if he realizes the impact he has made with younger fans. My boy is 11 years old, and Timothy is his favorite driver in this division. He was impressed with what Timothy did last year. He was cool, calm and collected throughout the whole season.
"Obviously, he wants to win again, but the field has caught up to him."
It's completely wide open in the Crown Stocks division, a class that is in its inaugural season at Five Flags. The entry-level fields are made up of old Crown Victorias and Grand Marquis. They have proved wildly entertaining thus far. Three races have seen three different winners. Ryan Bleich Sr., owner of one win, leads Tyler Young by one point. Ryan Maxwell and Kris Rummel have the other two feature wins.
"Keep it as bone-stock as you can, and I think the series will continue to grow," Roth said.
Harvey added: "They've learned so quickly in just a few short months. They're fun to watch and now we're starting to see the division grow a little bit."
The Pro Trucks and Pure Stocks are the only classes to have drivers win multiple times this season. Grant Thompson's long, strange trip back to Pro Trucks is seemingly paying off this season. After a few years competing in Late Models, the 2020 Pro Trucks track champion has won the season's first two features and doesn't look to be slowing down despite some heavy competition from Treyce Capers, who sits nine points back in second.
"There's just something about Grant Thompson in a Pro Truck," Harvey said. "He's right where he belongs. At least, for now. He's learning how to be aggressive again and remembering what it's like to be back in Victory Lane."
Young Mason Johnston has also won twice this season. His first two career Pure Stocks victories have him atop the standings with Robert Barber just three points behind in second. Johnston is the grandson of Five Flags legend Okie Mason, who has won numerous features and track titles at Pensacola's high banks. It is clear to see Johnston wants to follow in his grandfather's footsteps by the way he drives and the lessons he has learned from Mason.
"The thing about Mason is he is all about family," Roth said. "He has Okie's personality, too."
Harvey added: "Mason is carrying on the legacy. What a celebration it would be if Mason can win a championship like Okie has done so many times and win at the Derby if he can keep up the momentum."
Momentum promises to be a tall task for Johnston and seemingly any driver to master this season.
Parity is shuffling the deck and opportunity has never knocked harder for Five Flags' Friday night heroes.
Back to News