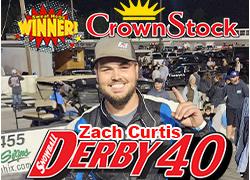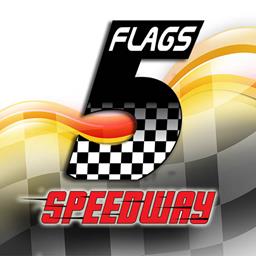 11/19/2023
Five Flags Speedway
---
CORDER'S RECAP; Zachary Curtis Wins, Led Every Lap for the Snowball Trophy and $1,250.
Curtis Makes Most of Pensacola Trip, Scores Crown Stocks 40 Derby at Five Flags
By Chuck Coder
5flagsspeedway.com reporter
Zachary Curtis traveled 500 laps to Pensacola and knew immediately who to credit for a memorable victory.
"I have to thank my girlfriend for coming 8.5 hours with me and letting me do what I love," the Palm Bay native said.
Curtis, from the Atlantic Coast of the Sunshine State, captured the Crowns Stocks Derby 40 on Saturday at Five Flags Speedway. The entry-level class made one special Snowball Derby debut, as more than 60 Ford Crown Victorias, Crown Victoria Police Interceptors and Mercury Grand Marquis showed up at the famed half-mile asphalt oval to vie for four spots.
Runner-up Mike Stacy and Chucky Herne rounded out the podium and will join both Curtis and fourth-place's Tony Bromley at the 56th annual Snowball Derby presented by Hooters on Dec. 1
.
Those top-four will join the top-12 in the Story & Bleich Crown Stocks points during the regular season for a 25-lap shot at immortality on that Derby Friday.
Curtis, who is the Crown Stocks track champion at Citrus County Speedway in Inverness, was perfect Saturday. He was fastest in practice, fastest in group qualifying and led every second of the 40-lap feature.
"This feels amazing," Curtis said. "I've been racing for years, and I've always wanted a trophy this tall.
"This track is freaking awesome. It's 100 times bigger and better than what I'm used to. You've got some speed up here."
For all his success, Curtis left Five Flags with a fat wallet. He won a cool $1,250 for the feature victory and another $150 for being tops in qualifying.
A few cars experienced engine issues in practice, but 53 still qualified before the field was eventually whittled down to 30 after a 20-lap B main eliminated more cars.
Both races ran fairly clean despite the extraordinary numbers. The A main only saw three cautions.
Drivers descended upon Pensacola's high banks from all over Florida, Georgia, Alabama and even the Midwest.
"It was awesome," said Hearn, who hails from the Central Florida town of Homosassa, just southwest of Gainesville. "This track definitely hauled some (tail) compared to my home track of Citrus County."
It was also Snowball Derby Preview Day on Saturday. Drivers across all classes—Super and Pro Late Models to local divisions—came to shake their cars down and get glimpses at how they would react in cooler temperatures vs. the humid and warm conditions Five Flags is known for.
In what may be the first of its kind, a few lucky drivers got paid for putting down the fastest practice laps in each series.
Timothy Watson (Faith Chapel Outlaws), Treyce Capers (Zoom Equipment Pro Trucks), Kyle Purvis (Modifieds of Mayhem), James Patrick (The Dock on Pensacola Beach Sportsmen) and Robert Barber (Lloyd's Glass Pure Stocks) each pocketed $200 for their lightning-quick laps.
Terry Senneker took home $300 for the Allen Turner Hyundai Pro Late Models and Dustin Smith edged Connor Okrzesik by a millisecond (16.693 vs. 16.694) for $500 in the Deep South Cranes Blizzard Super Late Models.
1 2 Zachary Curtis, Palm Bay, FL
2 6 Mike Stacy, Springfield, OH
3 83 Charles Herne, Homasassa, FL
4 6 Tony Bromley, Jacksonville, FL
5 42 Dustin Wilson, Bradenton, FL
6 13 Shawn Senokossoff, Homosassa, FL
7 7 Dalton Degroff, Sarasota, FL
8 1 Roger Blevins, Winter Haven, FL
9 89 Josh Sage, Dayton, OH,
10 71 L B Skaggs, Ft Myers, FL
11 42 Dennis Wilson, Bradenton, FL
12 48 Okie Mason, 8 Mile, AL
13 9 Jonathan Wallace, Land O Lakes, FL
14 x Braeden Kitchen, Pensacola, FL
15 51 Johnny Allen, Lehigh, FL
16 49 Jason Skrovan, Palm City, FL
17 17 Ryan Bleich, Pensacola, FL
18 17 Ryan Maxwell, Pensacola, FL
19 3 Adam Salter, Andalusia, AL
20 9 Dave Nolen, Cantonment, FL
21 6 Daniel Bromley, Jacksonville, FL
22 26 Blaise Boykin, Pensacola, FL
23 62 Doug Thorpe, Pensacola, FL
24 52 Kris Rummel, Spring Hill, FL
25 44 Tyler Young, Pensacola, FL
26 45 Cody Scott, Springfield, OH
27 21 Eric Sharrone, Brooksville, FL
28 22 Chris Mitchell, Mount Olive, AL
29 5 Jason Lang, Jr, Fort Valley, GA
30 97 Hunter Lambert, Pensacola, FL
Article Media
Back to News