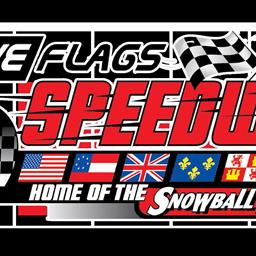 12/17/2021
Five Flags Speedway
---
2022 Racing Schedule Posted
………past, present, and future….Let's Go!!
With the 54th Annual Snowball Derby concluded, so comes to a close the 2021 Racing Season at Five Flags Speedway. The past year has created many memories, many which will be revisited at our Annual Awards Banquet on January 8, 2022.
We now set our focus on the Holiday Spirit. We hope you and your families are able to enjoy some quality time together this Christmas, and reflect on all the things we have to be thankful for. Among those things we recognize is how fortunate we are to be a part of such a tight knit racing community. No matter what our role, we are all of equal importance in the overall scheme of things.
The off season seems to become a little shorter each year. We're already at work preparing for the 2022 racing season. A few changes are in store moving forward, while we try our best to retain the core values that have made Five Flags Speedway amongst the most elite short tracks in the nation.
We will once again share our stage with 7 different racing divisions, all in a rotation we've done our best with, so our drivers can also visit neighboring tracks along the way. Three doubleheader weekends are included in this year's schedule, including our opener on March 18th and 19th featuring the ARCA Series, the Vores Compact Touring Series, plus Outlaws, Sportsmen, and Pure Stocks. While the 2022 schedule listed here covers the majority of our events, we tease that there will be more to come. Five Flags Speedway has enjoyed some great years recently, but we truly believe 2022 will deliver the most exciting times in track history.
We hope you can be a part of it, Legends Start Here!!
FIVE FLAGS SPEEDWAY 2022 Racing Schedule
January 8         2021 Awards Banquet
February 19    Sweat Hogg Grand Prix
March 18         O, SP, PS
March 19         ARCA, VCTS
April 8               BLIZZARD #1, PT, PS
April 9              BLIZZARD #2, O, SP
April 29            MoM, O, PT, PS
May 13             ATPLM #1, SP, PS
May 27            O, PT, SP, PS
June 18            TBA, O
July 1                O, PT, SP, PS
July 22             ATPLM #2, O, PS
July 23             BLIZZARD #3, MoM
August 5         O, PT, SP, PS
August 26       ATPLM #3, PT, SP, PS
Sept 10           Night of Champions 1  O, PT, SP, PS
Sept 24            Night of Champions 2  Blizzard #4, ATPLM #4
October          (make up dates)
Nov 19            Snowball Derby Preview
Dec  1-4          55th Annual Snowball Derby
Blizzard-Super Late Model      ATPLM- Allen Turner Pro Late Model     O-Outlaw   
PT-Pro Truck      SP-Sportsman      PS- Pure Stock       MoM- Modified of Mayhem Tour
*subject to change
Back to News