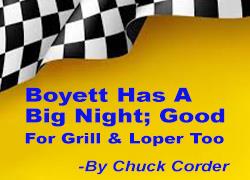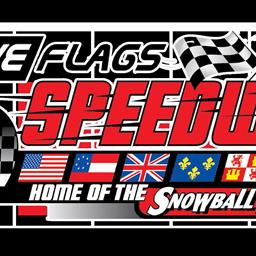 4/30/2022
Five Flags Speedway
---
Augie Sets Tone in Qualifying, Captures Modifieds of Mayhem Season Debut at 5 Flags on Friday
Augie Sets Tone in Qualifying, Captures Modifieds of Mayhem Season Debut at 5 Flags on Friday
By Chuck Corder
Augie Grill and racing are aging together like a fine wine.
The 45-year-old legend, whose cup always runneth over for customers who drive his GARC racecars, proved Friday night at Five Flags Speedway that he remains a force to be reckoned with when he does find time to race.
Grill won the Modifieds of Mayhem 50-lap season debut at Pensacola's high banks, dominating every phase of the night from qualifying to his checkered flag celebration in Victory Lane.
"That was a lotta fun," said Grill, a three-time Modifieds Snowball Derby champion to go along with his two actual Derby titles and three Allen Turner Snowflake 100s. "The car has been on a rail the two times we've run it this season. So far, so good. We'll take what we've learned today and go on to the next one."
Grill learned a lot of great things Friday against 16 other Mods. He was less than a half-second off the track record in qualifying. After stalking then-leader Jeff Letson for most of the first half of the race, Grill finally found clean air at the halfway point of the 50 lapper.
"Jeff Letson gave me a good fight," Grill said. "I think I gave him the bumper a couple times. The noses on these things are a lot longer than I remember.
"You always know what you've got when you race with Jeff. He's not going to race you dirty."
Kaden Honeycutt, a Late Model driver like Grill, finished runner-up and Pensacola's Derrick Griffin rounded out the podium.
"We had a good car," Honeycutt said. "It was a little bit free early and I think that killed the right rear. We went to war pretty much for half the race."
Faith Chapel Outlaws
Logan Boyett was white-hot fast all day in the Mark Biles No. 1.
Boyett set the fast time in qualifying (17.278 seconds), coming within an eyelash of the current track record (17.232) for Outlaws. But, no question, his best laps of Friday night at Five Flags Speedway came down the stretch of the Faith Chapel Outlaws 30-lap feature.
A bit of lapped traffic and the rocket ship underneath him allowed Boyett to catch Conner Sutton, who led the first 28 laps. Boyett caught and squeezed by Sutton on the final lap. Sutton was too loose to attempt a slingshot response.
"It's awesome," said Boyett, whose night was only just beginning. "I knew it was gonna be good the way we qualified. It was free, but I just trusted it. The guys behind me did all the work. They busted their (butts) off and are the reason why we're here right now.
"I hope we can keep this rolling. I think we can because we have a new baseline."
Sutton was eyeing his first career win at Pensacola's high banks. For a while, it seemed as if his host of runner-up and third-place finishes at Five Flags were going to finally pay off. He had the dominant car early and built a healthy lead.
Unfortunately, Sutton had a wad of lapped cars preventing him from putting more distance between he and Boyett. He had to settle for second after Boyett's late pass.
"It was a better run than a few weeks ago," Sutton said, staying positive. "We'll come back and rebuild off this. We're gonna keep working our way toward that first win."
Zoom Equipment Pro Trucks
One checkered flag wasn't good enough for Logan Boyett on Friday night at Five Flags Speedway.
After pulling off that Outlaws 30-lap feature win, the Pensacola driver made it two-for-two by capturing the Zoom Equipment 25 lapper. Both came in dramatic fashion with Boyett taking different routes to Victory Lane.
"We had a heckuva night," an elated Boyett said.
Instead of sprinting from second to win the Outlaws race on the final lap, he held off hard-charging Dustin Smith out of Turn No. 4 and edged him at the flag stand.
"I don't know if I had a tire going down or what, but I could barely hold onto it," Boyett explained.
The feature gave us the only cautions of the night as the eight-truck field saw three-wide battles and aggressive maneuvering that didn't pay off.
Smith finished runner-up, about a quarter panel away from pulling ahead of Boyett at the start-finish line. The Late Model veteran can wheel anything you put under him and Smith put on a clinic for how to close a large gap down the stretch.
"These trucks are fun to drive after coming back from a Super (Late Model)," Smith said. "I'm having the most fun in the truck. You can sit back a little bit where Late Models you gotta always be working it."
Fourteen-year-old Seth Christensen rounded out the podium in his debut at the famed half-mile asphalt oval. Seth is a former Quarter Midget champion and was in the seat driving for Curt Britt on Friday.
"It's definitely my favorite track so far," he said of Pensacola's high banks.
Lloyd's Glass Pure Stocks
If Robert Loper isn't careful, his winning ways are going to drive him straight into a bounty.
Loper would be seemingly unfazed, though. In fact, he may welcome it because bounties typically come after long winning streaks.
Loper is certainly on one of those now. The Theodore, Ala., driver has now won four straight Lloyd's Glass Pure Stocks features at Five Flags Speedway, including the Pure Stocks Snowball Derby in December.
Loper got a test from former teammate Cameron Leytham on Friday at the famed half-mile asphalt oval, but he was able to cruise to Victory Lane for the second time in as many races in 2022.
"I'm trying to be the best I can be," Loper said. "I wanna beat B.J. (Leytham's) record (of 10 in a season). We'll give it a darn good shot. But it has been a great season so far."
Leytham finished a solid second and Parker McDonald was third to make it an Alabama podium sweep.
"It was a good night," Leytham said. "But, really, a heckuva job by Loper. He drove the wheels off it tonight."
---
Submitted By: Dave Pavlock
Article Media
Back to News