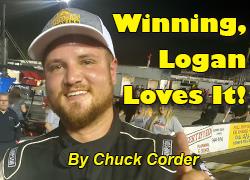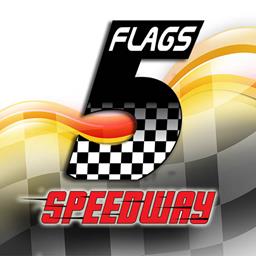 5/25/2022
Five Flags Speedway
---
Fresh off 2 Wins in 1 Night, Boyett Aims to Maintain Recipe for Success on Friday at 5 Flags
Fresh off 2 Wins in 1 Night, Boyett Aims to Maintain Recipe for Success on Friday at 5 Flags
By Chuck Corder
Logan Boyett pauses before peeling the next shrimp to consider the question:
When was the last time he won twice in the same day?
Now, 32 with a wife and four children—who are eager to try Dad's creamy shrimp pasta dinner he's cooking—Boyett was just 16 and still racing Legends cars at Sunny South Raceway in Grand Bay, Ala.
Sixteen years later, history repeated itself for Boyett. He won both the Zoom Equipment Pro Trucks and Faith Chapel Outlaws features last month at Five Flags Speedway.
"It takes a while to process it," Boyett said about the clean sweep April 29, "and how that feels and what to do with it. Because it definitely won't work the same every time."
Boyett hopes to cook up more trips to Victory Lane at the famed half-mile asphalt oval Friday night. The Pro Trucks and Outlaws are both in action, which means Boyett will be doing double duty once again. The Dock on Pensacola Beach Sportsmen and the Lloyd's Glass Pure Stocks also share the marquee.
Gates open at 5 p.m. Friday and admission is $15 for adults; $12 for seniors, military and students; free for children ages 11-and-under.
Boyett took two completely different routes en route to that memorable evening in late April that saw him leave Pensacola's high banks with a pair of checkered flags and winner's checks. He chased down Conner Sutton to get the Outlaws 30-lap win before holding off Dustin Smith by less than a car length to score the Pro Trucks 25-lapper.
"Our mindset was to move forward as soon as possible, but be patiently aggressive," Boyett said of his Mark Biles No. 1 Outlaws car. "We were really good for the first 10 or so laps of (the Trucks) race and then the right rear gave up. Had they not been racing so hard together in the back, I wouldn't have won that race." Tire management has never been more important than this Friday. Five Flags officials released purchasing limits earlier this week because of national shortages and "tire availability still being problematic." It impacts the Outlaws, which will only be able to purchase two tires instead of their traditional four.
Boyett's options are already slim. He only has his Outlaws Snowball Derby practice tires and the tires from last race to choose from.
"Lack of availability is the same everywhere," Boyett said. "I might choose not to practice Friday night just to preserve what I have. Or I may practice five laps and then have no choice but to put it on jack stands. There are not enough tires and not enough laps to see if the adjustments I make are credible to the car."
There won't be a lot of reality adjustments to make with the Pro Trucks class. It has been a two-tire rule all season for those drivers. Thankfully, Boyett—the family chef—will rely on the Outlaws car to continue to deliver a recipe for success.
"One thing Mark and Billy (Peevy) try to accomplish is getting these Outlaws to be consistent," Boyett explained. "It has done the same thing from Lap 5 to Lap 30, whether it be too free or tight. It does the same things throughout the whole race. It's a lot easier on me because I know what it's gonna do.
"The level of competition is so high with the Outlaws. The way they're set up. They're old Late Models. That's what makes it so much more difficult in that division because so many cars are capable of winning."
---
Article Credit: Chuck Corder
Back to News