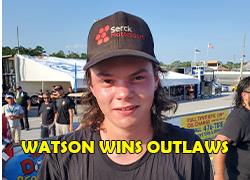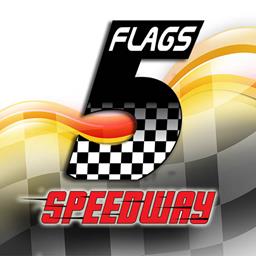 6/18/2022
Five Flags Speedway
---
WATSON LEADS ALL 50 LAPS TO WIN FAITH CHAPEL OUTLAWS.
Watson Dominates Outlaws 50 Lapper, Collects 3rd Win of 2022 and $3K
By Chuck Corder
The Faith Chapel Outlaws saw seven different winners in all seven features last season.
Timothy Watson isn't letting history repeat itself in 2022. Watson, who had his first career Outlaws victory in May 2021, scored his third win Saturday at Five Flags Speedway in just the four Outlaws features this year.
The 18-year-old Panama City hotshoe dominated the Outlaws 50-lap feature. He qualified on the pole, led flag-to-flag and won by more than half a track. Watson also collected a cool $3,000 for snagging the checkered flag on a blistering afternoon at the famed half-mile asphalt oval.
"I can't thank everybody enough," he said. "We weren't sure we were gonna make it. We got stuck on I-10 few hours."
That was the only traffic Watson encountered Saturday. He was calculated and smooth on three restarts following cautions and never faced a challenge despite the stacked 23-car field. The best battles on the raceway happened throughout the top-five with Dothan, Ala., driver Cameron Henderson finishing runner-up and Texan John Heil rounding out the podium.
"I was cold out there," Heil joked. "It has been 107 (degrees) in Texas, so I could've used some hot cocoa during the red flag.
"We had a good run, but we were a little too tight today."
Henderson didn't qualify great but made up for it with a methodical performance in the 50 lapper. He began making his move in the final 16 laps, picking off Bubba Winslow and Jay Jay Day in back-to-back laps for fourth and third, respectively. Henderson got around Heil just before the white flag flew but had no time to chase down Watson.
"Timothy was on a rail tonight," Henderson said.
Watson certainly was.
"The car felt great," he said. "My dad and I put countless hours into the car. He probably puts more into it than I do. I can't thank him enough.
"We had the same setup as we run at night. We took it home, cleaned it up, made everything good and came back over here."
Back to News