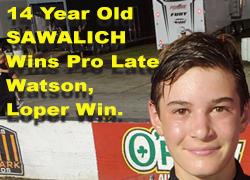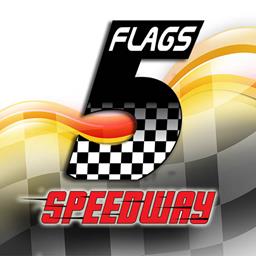 7/23/2022
Five Flags Speedway
---
Late Model Doubleheader Weekend: Sawalich Powers way to Allen Turner PLM 100 Win
Late Model Doubleheader Weekend: Sawalich Powers way to Allen Turner PLM 100 Win
By Chuck Corder
5flagsspeedway.com reporter
Hesitate at Five Flags Speedway and brace yourself for the repercussions.
When William Sawalich saw opportunity knocking Friday night, the 15-year-old Late Model budding star didn't blink. Displaying grit, determination and—perhaps, most importantly—no second-guessing, Sawalich's youth belied his bold decision making en route to capturing the second Allen Turner Pro Late Model 100 of 2022.
Sawalich, driving for Donnie Wilson Motorsports, found another gear on the race's final restart. He went to the high side with 20 laps left and passed then-leader Dylan Fetcho to snatch his second career win at Five Flags. Sawalich captured the Allen Turner PLM 100 on the Night of Champions last September.
His team celebrated Sawalich's third PLM win of the season with a round of bear hugs and a cold-water shower from unsuspecting water bottles.
"The crew gave me a really good car," he said. "Plus, we had some good tires to take the win."
Fetcho, who had the fast time in qualifying (16.919 seconds), finished runner-up and Giovanni Ruggiero—another teenager who fell outside the top-10 just 33 laps left of the finish—did a masterful job of coming home third.
Sawalich boldly navigated his way to clean air on a Lap 80 restart. Fetcho was smooth and clean as they took the green, but that didn't stop Sawalich. The young hotshoe attacked the outside lane with reckless abandon and powered his way to the front, as he took the No. 24 through turn Nos. 1 and 2.
"I just drove it in there, hoping it would stick and stay tight," Sawalich explained of the daring strategy. "My spotter really helped me out right there and I'm really grateful for that."
Gavin Graham—14 and a year younger than Sawalich and Ruggiero—dominated the first two-thirds of the 100 lapper. Graham led the first 67 before his rivals caught up because of lapped traffic. As he led the field out of Turn No. 4, Graham was bumped from behind and struggled to maintain the handling of his black No. 70. Fetcho seized the opportunity and took over the lead while Graham spun moments later in Turn No. 2 because of a cut tire.
Ruggiero also was bounced around in the same incident but was able to recover for a podium finish.
"I'm disappointed for my team," the 15-year-old Ruggiero said. "They all worked so hard for us to be here tonight, and I wanted to try and get into Victory Lane. I think that contact messed up my whole race."
Faith Chapel Outlaws
Tensions boiled over around him, yet Timothy Watson remained cool and unbothered.
The Panama City driver recorded his fourth Faith Chapel Outlaws victory of the season Friday at Five Flags Speedway with a commanding performance. Watson extended his series points lead after Logan Boyett could not finish the 30-lap feature because of mechanical troubles.
Watson was essentially perfect Friday. He qualified fastest, rolled a "1" on the die to secure the pole, hit his marks on restarts and won the 30 lapper by nearly three seconds.
"I'm really enjoying this year," Watson said. "I couldn't do this without my family, the support I get on the radio from my team and all my sponsors.
"My dad and I have been putting in lots of hours. It's starting to pay off."
Todd Jones and Conner Sutton finished second and third, respectively. Jones ended up facing the wrong way and pinned against the outside wall as a result of Bubba Winslow's post-race frustrations. Winslow blamed Jones for knocking him off the podium on Lap 19 when the two were battling for third. A closer look indicated that it was just tough racing between two champion-caliber drivers.
"I didn't mean to get into him, but he obviously meant to get into me," Jones said. "He did a poor job of trying to wreck me and put me into the fence if that's what he was trying to do.
"Nobody does anything right except Winslow," he added sarcastically.
Lloyd's Glass Pure Stocks
Even when things get interesting, Robert Loper remains poised and seemingly always recovers.
The Theodore, Ala., driver dominated another Lloyd's Glass Pure Stocks feature Friday at Five Flags Speedway and scored his eye-popping fifth victory of the season.
This night, though, Loper had to work a little harder for the 25-lap win. Race rules now dictate the winner from the previous race must start sixth. Loper typically starts on the pole or somewhere among the first two rows. He assumed his new position but rocketed to second by Lap 2 and was out front again on Lap 7.
Loper also dodged trouble two laps short of the checkered flag when a late-race caution provided some unnecessary drama that he handled in stride.
"We work on our cars every day," Loper said. "That's how I stay fast and up front. A lotta folks work on this and I have to thank them and God for letting us race."
Newcomer Colby McDonald made it back-to-back races with runner-up finishes and Caleb Burkett rounded out the podium in third.
"This has been a blast," McDonald said. "It's just our second week over here, and the car is getting faster. We're getting there. We're gonna get (a first win) one day."
---
Article Credit: Chuck Corder
Submitted By: Dave Pavlock
Back to News