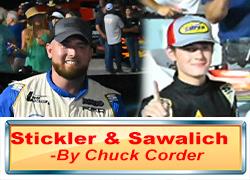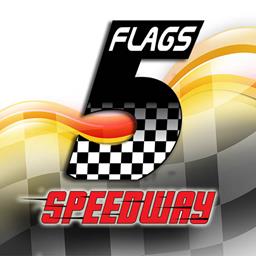 7/24/2022
Five Flags Speedway
---
Sawalich Scintillates in Blizzard's Summer Sizzler 75, Sweeps Late Model DH Weekend
Sawalich Scintillates in Blizzard's Summer Sizzler 75, Sweeps Late Model DH Weekend
By Chuck Corder
5flagsspeedway.com reporter
Second verse, same as the first. William Sawalich was at it again Saturday night at Five Flags Speedway.
A night after pulling off a daring move to win the Allen Turner Pro Late Model 100, the 15-year-old Minnesotan swept the Late Model Doubleheader weekend thanks to a confident pass in the Deep South Cranes Blizzard Series Summer Sizzler 75 victory for Super Late Models. The Southern Super Series, running in conjunction with the Blizzard Series, has now had nine different winners in 10 races at iconic short tracks across the southeast this season.
Sawalich—driving for Donnie Wilson just like in the PLM—put the hammer down when race leader Stephen Nasse fought his car's handling 10 laps shy of the checkered flag. Nasse was able to finish runner-up and Bubba Pollard followed in third.
"I can't thank the Donnie Wilson crew enough," Sawalich said. "I know they've put a lotta hard work into this car. I didn't expect to win that one, to be honest. I just wanted to try my best, run a smart race and we were able to win it."
He won it between turn Nos. 3 and 4 on Lap 65. Nasse's No. 51 suddenly snapped right and Sawalich wasted no time shoving his No. 24 underneath. Sawalich's pass was resolute and, again, looked like a veteran maneuver and not one from a teenager.
Sawalich was into the wind quickly and built a nearly two-second lead by Lap 72. Nasse had a comfortable cushion over Pollard to secure second.
"The car was pretty good, but a little free," Nasse said. "I tried to baby it because I wanted to keep the lead there. I did what I could to save the car as much as I could. Sustainability wise, though, (Sawalich) had a much better setup than we did.
"We're getting better day-by-day, but just not quite enough yet. We're gaining, though. I hope we keep these good runs going. I really wanna win (at Five Flags) soon."
Nasse is one of three drivers along with Derek Thorn and now Sawalich to win a Blizzard race this season. Nasse and Thorn split the Pepperjack Kennels Twin Blizzard weekend in April.
It was Pollard's first appearance at the famed half-mile asphalt oval since his runner-up showing at the SRX Racing last month. He leads the points standings in both series currently and is seeking a record fifth Blizzard Series track championship.
"It was a good race, but we have a few more things to work on," Pollard said. "We're getting closer, but it's tough because everybody is so good. You have to make sure you're on top of your game every time you race."
Modifieds of Mayhem
Cody Stickler stood head and shoulders above the Modifieds of Mayhem 13-car field Saturday at Five Flags Speedway.
The reigning Modifieds Snowball Derby winner made an emphatic statement early with a blistering qualifying time before handily winning the 50-lap feature. The Pinellas Park driver now has seven Modifieds victories in 2022 and is always a threat whenever and wherever he unloads.
"What an awesome car," Stickler said. "We've been really fast this year."
Jeff Letson finished second and Pensacola driver Derrick Griffin came home third.
Stickler took the lead on Lap 19 and was shot out of a cannon. He deftly handled two cautions with buttery-smooth restarts and barely broke a sweat en route to Victory Lane.
The Modifieds' best battle all came behind Stickler. Letson and Griffin provided a spectacular show of aggressive, but clean racing as the former protect second place from the latter. Griffin attempted a bump-and-run to get by Letson, but the wily old veteran maintained his track position and made his No. 131 as wide as he could.
Both Letson and Griffin experience up-and-down evenings, as they fell outside the top-three early before ultimately recovering to occupy the last two spots on the podium.
"They had us covered tonight," Letson said of the Stickler team. "We were hanging on really. We've got some work to do."
---
Submitted By: Dave Pavlock
Back to News