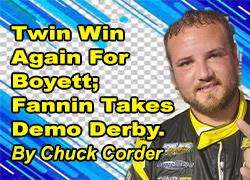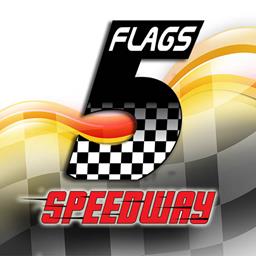 8/13/2022
Five Flags Speedway
---
FANNIN CRASHES TO DEMO VICTORY; TWIN WIN FOR BOYETT.
Milton's Fannin Pounds Competition to Win Demo Derby; Boyett Scores Another Sweep
By Chuck Corder
5flagsspeedway.com reporter
Michael Fannin had a clever Demolition Derby strategy Friday night at Five Flags Speedway:
Instead of using his Mercury Grand Marquis' front end to ram and wreck the competition, Fannin relied on his trunk and back bumper to deliver heavy damage.
The Milton native worked his gameplan to perfection and outlasted 14 other junkyard jewels en route to the Demo Derby win and a $1,500 winner-take-all purse.
The annual crash fest never disappoints, and this year was no exception. Camden Sidner went airborne with all four tires off the asphalt shortly after things got underway. Defending champion Dylan Merritt was a force early but got pinned between a couple cars and the inside wall before Fannin and local attorney Marcus Michles sandwiched Merritt with punishing blows that ended the former champ's night.
Fannin continued to pepper his opponents with a steady dose of his Marquis' rear-end until the only car running was his No. 57. He hopped on his hood with the checkered flag and waved it wildly, as a standing-room-only crowd roared their approval.
Faith Chapel Outlaws and Zoom Equipment Pro Trucks
Recording a triple-double is one of the hardest basketball feats to accomplish.
In stock-car racing, it is an absolute anomaly. Not for Pensacola hotshoe Logan Boyett in 2022, though.
On Friday, Boyett once again left Five Flags Speedway with two fistfuls of trophies and winner's checks. He won Zoom Equipment Pro Trucks 25-lap and Faith Chapel Outlaws 35-lap features Friday, marking the third time this season Boyett has captured two races in one night.
He topped Allen Carter and seven other Pro Trucks before outdueling runner-up John Heil in the final 10 laps of a 16-car Outlaws field.
"I can't put this into words," Boyett said. "I'm never racing one without the other again. It's great to see such an awesome crowd."
A packed house saw Boyett start the Pro Trucks feature sixth because he won the previous feature last month, a new rule Five Flags officials instituted this year. He shot through the field at the drop of the green flag and climbed to second just four laps in. Boyett slid under Carter for the lead on Lap 18 before pulling away for the Pro Trucks victory. Teenager Seth Christensen, fastest in qualifying, rounded out the podium.
"It's unbelievable and being able to do it after starting sixth means a lot more," Boyett said.
Carter, the Murfreesboro, Tenn., driver impressed in his 2022 debut at Five Flags.
"This truck, I think I've finally got the feel of it," said Carter, who has race for more than three decades. "We had a good truck, but just started getting free. I'll take second. We're coming back."
Boyett started fifth in the Outlaws feature but was more methodical in his push toward the front. He battled Conner Sutton early for fourth and darted by Todd Jones for third on Lap 14. Boyett set his eyes on Heil once he got past series points leader Timothy Watson with 18 laps completed. With Heil digging in his bag of veteran tricks after several cautions, Boyett fell victim and was nearly blacked flag after race officials ruled he jumped a restart. He recovered, though, and got by Heil for good on Lap 26. Watson finished third.
"If you're patient long enough, you can pick your spots," Boyett said. "John always races hard and it's up to you to figure out how to get around him. Fortunately, I was able to."
Boyett has now won three of seven Outlaws features this year while Watson has captured the other four.
The Dock on Pensacola Beach Sportsmen
It had been nearly two years since Daryl McDonald III had celebrated in Victory Lane at Five Flags Speedway.
The Theodore, Ala., driver's drought ended Friday at the famed half-mile asphalt oval when "D3" won his first career The Dock on Pensacola Beach Sportsmen 25-lap feature. The former Lloyd's Glass Pure Stocks champion had been making strides in his Sportsmen program but had yet to snatch a checkered flag.
McDonald got by Kevin Mtichell on Lap 19 and scored the win. Corey Boddie finished second and Mitchell rounded out the podium.
"It feels good to be back in Victory Lane," McDonald said. "I'm so stoked about this. We might not have been the fastest, but we were consistent fast"
It was Mitchell's third top-three finish in three races this season after a pair of runner-ups. He took the lead from perennial contender Brannon Fowler early and held it until McDonald chased him down.
"We've started leading laps and that's really good," said Mitchell, who had a large contingent of fans from his church, Marcus Pointe Baptist – Beulah. "I've gotta learn to keep the right rear under me. These young men are really good. Losing to them isn't so bad."
Lloyd's Glass Pure Stocks
Every win means something to Robert Loper.
But Friday's sixth Lloyd's Glass Pure Stocks 20-lap feature victory at Five Flags Speedway meant a little bit more to the Theodore, Ala., driver. Loper dedicated the victory to his grandfather, who passed away last week in New York.
"Thank you to all fans, but I want all the praise to go to my grandad," an emotional Loper said in Victory Lane.
Caleb Burkett finished second and Robert Barber was third.
Loper passed Burkett following an early-race restart on Lap 3 and was quickly into the wind. Loper is on a historic run. Dating to back to last season, he has won eight of nine races, including the Pure Stocks edition of the Snowball Derby last December.
---
Article Credit: Chuck Corder
Article Media
Back to News