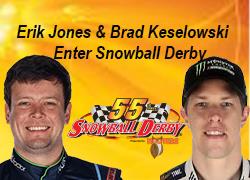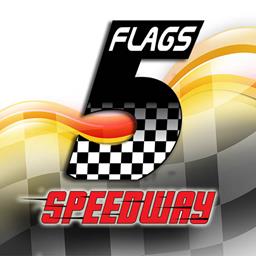 11/22/2022
Five Flags Speedway
---
TWO NASCAR DRIVERS LATEST TO ENTER SNOWBALL
Story by Racing America
STATESVILLE, NC (November 22, 2022) – NASCAR champion Brad Keselowski has successfully competed in a number of different series and events over his illustrious racing career, but never the Snowball Derby – the most prestigious event in super late model racing. That changes this year when Keselowski will take the wheel of the No. 6 Ford with sponsorship from long-time and significant racing supporter, Fr8Auctions. The 55th annual Snowball Derby is scheduled for November 30th – December 4th at Five Flags Speedway located in Pensacola, Florida.
"The Snowball Derby is essentially an all-star race as it attracts some of the biggest names in short track racing, as well as some of my competitors from NASCAR," said Keselowski. "This is my first time behind the wheel at the Derby. I'm really looking forward to the race and very appreciative of Fr8Auctions coming on-board with me. Fr8Auctions has supported all levels of racing, so it's great to partner with them for this particular event and bring together NASCAR and super late model racing."
WATCH THE SNOWBALL DERBY ON RACING AMERICA
For Keselowski, it marks his first partnership with Fr8Auctions, but not Fr8Auctions' first partnership in motorsports.
"FR8Auctions is looking forward to growing our racing footprint while supporting grassroots events with different drivers across all levels of motorsports. Whether it's partnering with Championship Cup drivers in Crown Jewel events like the Snowball Derby or supporting the young up and coming drivers working their way through the ranks, FR8 is committed to the sport and its growth long term," said Marcus Barela, Founder and CEO of Fr8Auctions.
"We are thrilled to continue to grow our footprint in all levels of racing by working with Brad in the Snowball Derby. This is a Crown Jewel event and we are excited to have such an accomplished driver representing us on and off the track." "Brad is a champion and we are racing for the win," added Matt Erickson, President of Fr8Auctions.
While a first participating in the Snowball Derby and a first with Fr8Auctions, the event will be a bit of homecoming of sorts for Keselowski where he will be driving a FURY Race Cars entry with Tony Eury Jr. serving as crew chief for the event. Keselowski and Eury Jr. partnered together in 2009 during Keselowski's part-time schedule with Hendrick Motorsports.
"Having the opportunity to work together again Tony Jr. and Pops makes this whole program even more special," added Keselowski. "This is going to be a lot fun to be sure, but we are all racers, so we're headed down to Pensacola to compete for a win!"
The 55th annual Snowball Derby will be available via live pay-per-view exclusively on RacingAmerica.com. The Snowball Derby 300-lap feature race is scheduled for Sunday December 4th, 2022, at 2:00 pm ET.
About FR8Auctions
Fr8Auctions partners with freight lines, distribution companies, and consumer product-based businesses to help sell excess, discontinued or damaged inventory outside of traditional distribution channels. Utilizing industry leading merchandising techniques, product presentations, and a competitive bidding environment, Fr8Auctions offers both their partners and buyer's opportunities to maximize returns on their investments. Buyers can also access online (sealed bid) auctions to bid on the thousands of pallets of merchandise, which can range from gas grills to ceiling fans and various domestic and home improvement products. The integrity-based company is focused on building small businesses and lasting partnerships across all avenues of the asset recovery industry.
-Brad Keselowski, Inc. Release
---
Article Credit: Racing America
Back to News