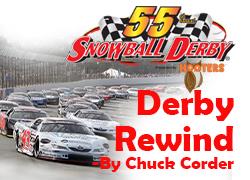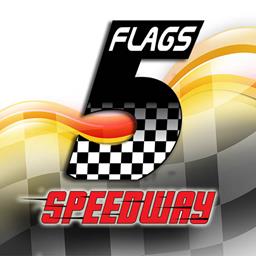 12/14/2022
Five Flags Speedway
---
LOOKING BACK AT THE 2022 SNOWBALL DERBY.
Thorn Highlights Four First-Time Winners, Plenty of Storylines at 55th Snowball Derby
By Chuck Corder
5flagsspeedway.com reporter
The book has officially closed on the 55th annual Snowball Derby presented by Hooters and the Five Flags Speedway season.
This year's edition of racing's biggest weeklong celebration got extended by a week unexpectedly. Mother Nature put on a dominant performance Saturday night only to be equaled by Derek Thorn's Sunday stampede in the Derby. A week later—this last Saturday—Cantonment's Bubba Winslow became the final champion of 2022 when he rolled to the Faith Chapel Outlaws Snowball Derby 50 victory.
Each Derby leaves us with indelible images, stories and memories. This one was no exception. Derek Thorn's Derby dominance. Cameron Leytham fishing his Pure Stock out of a motel pool and finishing third in the Lloyd's Glass Pure Stocks 35 Derby less than 24 hours later. A five-hour delay Saturday that was followed by a dense fog and forced the postponement of the Outlaws race. Red Farmer firing the engines Sunday and serving as the Derby Grand Marshal.
But we must start with Thorn. The scene in Victory Lane on Sunday afternoon was truly one that dreams are made of. Thorn has been a December darling since his barrel roll in 2011 endeared him in the hearts of all Derby fans. But the stretch that he has enjoyed since winning his first of three consecutive poles in 2019 has been legendary.
After a series of close calls and a bitter ending at the 54th running last year, the Bakersfield, Calif., driver got redemption this year and finally scored his first career Derby championship. Hoisting the Tom Dawson Trophy in his last race for Campbell Motorsports moved Thorn to joyous tears. He officially led a mind-boggling 312 of the 318 laps, as the 300-lap race went into overtime. Thorn is now the career laps leader at the Derby with 960 overall, eclipsing Pensacola's Eddie Mercer's mark (782) midway through this year's race.
"The disappointment can drain you. It has been tough," Thorn admitted. "So, this definitely makes it special. It's one of those achievements that I will always look back on.
"I still don't know how to win this race. It takes a lotta luck and you gotta be there at the end."
A lot of luck and a lot of support from his team and sponsors. Colten Wright, proprietor of Pensacola-based The Tool Shack and one of Thorn's sponsors, was one among the first to congratulate Thorn when he climbed out of the black-and-white No. 43 Super Late Model.
"You're a machine!" Wright shouted as he shared a bro-hug with Thorn.
"As a kid, I sat in those stands," Wright continued. "We always came to the Snowball. It feels amazing to be a part of a Derby-winning team."
Casey Roderick was a part of two Derby-winning teams this year. The longtime stalwart at the famed half-mile asphalt oval had plenty of regular season hardware but had never officially won during Derby week. That all changed on Night 1 when Roderick collected the checkered flag for the Sanford family in the Zoom Equipment Pro Trucks Derby 50.
He backed up that win with an impressive victory Saturday in the Allen Turner Snowflake 100 for Pro Late Models against an elite field, which included the aforementioned Thorn. He also rallied Sunday to finish fourth, his best-career Derby result.
"You race all year to get ready for Derby week," Roderick said. "And I haven't been able to race much. To do as well as we did with a dominant (Snowflake) win, that was really cool. All in all, it was a great week for us."
He got the ride in the Anthony Campi Racing No. 81 PLM during Thanksgiving week and just days before Derby week festivities kicked off. NASCAR young gun and 2021 Derby champion Chandler Smith chose to not defend his title, which prompted ACR to shift teenager Gio Ruggiero to the SLM seat for the Derby and a call to Roderick.
The Mississippi transplant by way of Lawrenceville, Ga., Roderick has had plenty of success getting around Pensacola's high banks. He was the first Late Model driver to win multiple track championships in the same year at Five Flags when he captured the Deep South Cranes Blizzard Series (SLM) and Allen Turner PLM crowns in 2018. He owns three career Blizzard titles and two Allen Turner PLM track championships.
"I think this week just shows what I'm capable of if I'm put in the right situation with the right car," Roderick said. "ACR had a very fast racecar all year long. It's a great program and well-organized. It takes that to be successful.
"I'd love to put something together and run more races in 2023 no matter who it's with. But you can't make it work without money and that's what I lack. I hope one day someone will come along, see my talent behind the wheel and give me a shot."
Including Roderick and Thorn, this year's Derby saw four drivers claim their first career crowns across six divisions of racing. Only Winslow and Cody Stickler, who captured his second straight Modifieds of Mayhem 75 Derby, had previously won.
The Derby always delivers. This year was no different.
See y'all at the 56th running of the nation's biggest race next December.
Back to News