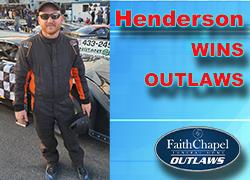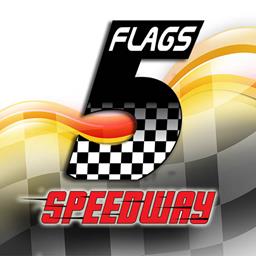 3/12/2023
Five Flags Speedway
---
Chuck Corder Reports on Henderson Outlaws Win
Alabama's Henderson Captures Outlaws Opener for 1st Win Since 2021 at 5 Flags
By Chuck Corder
5flagsspeedway.com reporter
Cameron Henderson was just thinking the other day about his unique number of 7-9-2.
Henderson thought it might be unlucky and was considering all numerical options. He had a change of heart Saturday afternoon at Five Flags Speedway.
Henderson opened 2023 at Pensacola's high banks with his first victory since 2021, capturing the Faith Chapel Outlaws 35-lap feature with an inspired performance coming from the ninth starting spot.
"I have to leave it on there," he said of his love-hate relationship with the No. 792. "The car was so fast today. I gotta give it up to my guys working on the car from the time we got here to the time we stated the race. It all paid off."
Pensacola's Conner Sutton and Panama City's Timothy Watson finished second and third, respectively.
Watson, the defending Outlaws track champion, had a wild route to the podium. Despite sustaining early left-fender damage, Watson led five laps before ultimately Henderson and Sutton got around because of that swaying nose that impaired his sightline.
"I didn't plan on the body ending up like that," Watson joked. "I couldn't see anything, and I was missing my marks. Normally, we try to put the left side down on the yellow line. I couldn't see the yellow line."
He yielded the lead to Henderson on Lap 19 and Sutton expertly timed his pass of Watson's wounded ride down the stretch to score runner-up honors.
"It was a good night," Sutton said. "I shouldn't even be here. I got a call to go work, but I was asleep for the call. I think we'll have a good piece this year."
Henderson has set the tone for the field, winning the season opener. He climbed out of his black car and delivered a tidal wave with his victorious checkered flag.
Henderson has never run a full season at Five Flags. The Dothan, Ala., native has competed in just four of the eight races last year and only half of the 24 races held in the last three years. Perhaps, a kickoff win will kickstart a championship-chase run in 2023.
"This thing was a hotrod tonight," he said
---
Article Credit: Chuck Corder
Article Media
Back to News