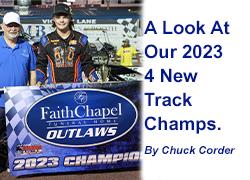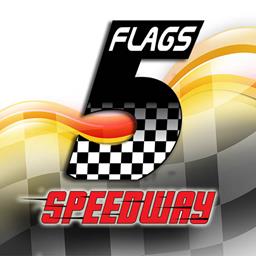 9/10/2023
Five Flags Speedway
---
Night of Champions 1: Locals Stick with Their Roots En Route to Being Crowned Champs at 5 Flags
Night of Champions 1: Locals Stick with Their Roots En Route to Being Crowned Champs at 5 Flags
By Chuck Corder
5flagsspeedway.com reporter
In recent years, short-track racing has drawn a line squarely in the sand for its weekend warriors.
Late Models, offering the glitz and glamour of many well-funded teams, certainly provide edge-of-your-seat attraction. But local divisions keep the sport at its grassroots, as drivers cling to families, friends and neighbors to keep engines running and tires on the car.
It was on full display Saturday night at Five Flags Speedway, as four local classes closed the book on their regular seasons before the 56th annual Snowball Derby presented by Hooters arrives in December. Night of Champions No. 1 was defined by series winners who leaned heavily on those closest to them.
Timothy Watson captured his second straight Faith Chapel Outlaws championship on Saturday thanks, in large part, to the help of his father.
"He pours countless hours into all this," Watson said of dad Michael. "I couldn't be here without him."
The Panama City young hotshoe won four times this season, including Saturday night's 35-lap feature. Watson has nine wins during his two-year championship stretch.
"It's been another great year," Watson said.
He made sure to clinch the title with another victory after failing to win the season finale last year. Watson forced the issue at the drop of the green flag, making it three wide on the apron when pole sitter Hunter Lambert didn't get up to speed fast enough. Watson shot to second as Conner Sutton took the lead.
Sutton led early before Watson set up his pass to perfection on Lap 9, as they barreled down the back straightaway. Watson closed quickly and got underneath Sutton coming out of Turn No. 3. He wouldn't be tested for the final 26 laps.
Sutton finished second and Lambert rounded out the podium. Young Carter Taylor, who was the fast qualifier (17.476 seconds), finished fourth and Cameron Henderson closed with a fifth.
"We weren't that bad," said Sutton, who also finished second to Watson for the overall season. "Timothy has just dominated the last years. He's what keeps us coming back—dominant cars like him. We'll take it home and get ready for the Derby."
Zoom Equipment Pro Trucks
Grant Thompson won his first Zoom Equipment Pro Trucks championship at Five Flags Speedway in 2020 driving someone else's ride.
Title No. 2 meant a little bit more to him Saturday at Five Flags as it came behind the wheel of his family-owned truck.
"We wanted to come back this year and do what we could afford to do," Thompson said. "We've run Trucks for years, and we're still figuring things out with these things. I can't do anything without my dad and all these guys who help with the truck."
Thompson's runner-up finish to the victorious Treyce Capers in Saturday's 30-lap feature was more than good enough to lock up that second Pro Trucks championship. Capers took the lead on the opening lap and kept Thompson behind him the rest of the way to score his first career win at Pensacola's high banks.
"It's kinda hard to believe that we built this truck before the Derby last year," Capers said. "It has taken a lotta hard work. It feels good to get a win here. It's an honor to get to race out here. I'm excited for the Derby this year."
The Dock on Pensacola Beach Sportsmen
The closest battle across all divisions came down to the final turn on the final lap of the final race for The Dock on Pensacola Beach Sportsmen.
Three drivers—Chad Robinson, Maddox Langham and B.J. Leytham—came into Saturday's Night of Champions hoping to leave Five Flags Speedway with a track title. It was the young Langham who was crowned Sportsmen champion when the dust settled in the 30-lap feature, albeit with a dose of controversy.
"This is awesome!" Langham said. "I love this. I hope there are more championships to come."
James Patrick handily won the race, rocketing to the front early and cruising to the checkered flag. But the hottest battle on the famed half-mile asphalt oval Saturday was for second, especially down the stretch.
Robinson held a slim two-point lead over Langham coming into the 30-lapper. After battling all night, Robinson barely led Langham for that coveted second spot behind Patrick when the white flag waved. Langham made contact as the pair drove nose-to-tail coming out of Turn No. 2, getting Robinson loose and pouncing on his chance to take over second. They tore into Turn No. 3 and as he attempted to slingshot back under Langham, Robinson got into him. Langham spun and Robinson unofficially crossed the start-finish line second. After discussion, race officials ruled Robinson dumped Langham.
That decision negated Robinson's runner-up finish and relegated him to seventh. It also delivered the track championship to Langham, who finished fourth. Robinson was irate at the verdict and shared his displeasure with race officials in Victory Lane.
"It was a rough race," said Langham, who notched his first career track title at Five Flags. "I'm sorry to Chad. I didn't mean to get into the back of him, but I just took a chance when I saw an opening. Coming off (Turn No.) 3, I don't know what happened. I got turned around and finished the best I could."
Lost in the Langham-Robinson slugfest was Patrick's performance. The former Sportsmen Snowball Derby champion drove like his hair was on fire, dominating the race from Lap 2 to the finish.
Lloyd's Glass Pure Stocks
It's not often you see a track champion headed to Victory Lane on the hook.
But that was the case at Saturday's Night of Champions No. 1. Mobile, Ala., driver Robert Barber needed a tow after burning his No. 97 down to the rims following a lengthy celebratory burnout down the front stretch.
Barber finished second to Robert Loper in the Lloyd's Glass Pure Stocks 25-lap feature Saturday, comfortably securing his first Pure Stocks track title.
… "Some people think this championship was bought instead of earned," Barber said, referring to being criticized by fellow drivers for attempting to purchase Colby McDonald's motor earlier this year only to be thwarted when one of McDonald's team sabotaged the motor in technical inspection. "But I came on in middle of the season. …
"It was fun running with Loper tonight. That's my buddy. And I think that was one helluva burnout. I loved it!"
As well he should. Barber won a staggering five times this season and had four straight victories coming into Saturday night.
Mason Johnston, Barber's closest competitor, finished third Saturday and second for the season.
"I gave everything I had tonight," said Johnston, who set a new track record (21.327 seconds) in qualifying. "I worked hard for this."
---
Article Credit: Chuck Corder
Article Media
Back to News