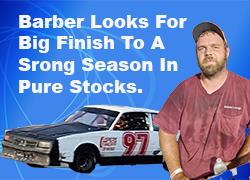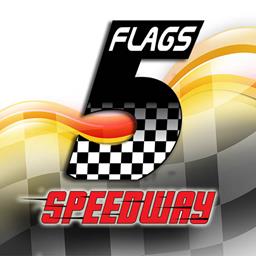 11/19/2023
Five Flags Speedway
---
Barber's Best Year Yet!
Barber Hopes to End Magical Season with a Pure Stocks Snowball Derby Championship
By Chuck Corder
5flagsspeedway.com reporter
Perhaps no driver comes into the 56th annual Snowball Derby hotter than Robert Barber.
The Mobile short-track driver won an eye-popping five Lloyd's Glass Pure Stocks features at Five Flags Speedway and never finished off the podium in 11 total races in 2023.
Barber's banner season culminated with his first career Pure Stocks track championship at the famed half-mile asphalt oval.
"Some people think this championship was bought instead of earned," Barber said on the local divisions' Night of Champions in September, referring to being criticized by fellow drivers for purchasing Colby McDonald's motor earlier in the year. "But I came on in middle of the season."
The hotshoe hopes to add another memory on Nov. 30, the first night of racing for this edition of Snowball Derby week.
The Pure Stocks will vie for their chance at history in a 35-lap feature that always is a crowd pleaser. They'll share the stage that Thursday, the last day in November, with the Zoom Equipment Pro Trucks (50) and The Dock on Pensacola Beach Sportsmen (50). Qualifying begins at 6:45 p.m. on Nov. 30 with racing slated for 8. For admission and a schedule of events, visit 5flagsspeedway.com or call the track office at 850.944.8400.
Barber went toe-to-toe with Mason Johnston all season in the Pure Stocks class. Johnston, the grandson of longtime fan favorite Okie Mason, came out of the gates with a victory at the season opener in March and was a model of consistency all the way to the season finale.
But it was Barber's summer stretch of four straight wins that allowed him to create some breathing room from Johnston and his rivals. Barber was undefeated in the months of July and August during his streak.
His patented dirt-track style of slinging his white No. 97 hard into every corner and exiting each turn smoothly was a crowd pleaser for the Five Flags faithful.
"Sideways is the dirt track coming outta me," he said. "Asphalt is pretty cool right now, though."
---
Article Credit: Chuck Corder
Back to News